Blues Singer, Big Mama Thornton – #1 To Record Hound Dog
Never in my wildest dreams, did I ever think I'd be playing on the same stage as Big Mama Thornton! But that's just what happened on a fateful day in the summer of 1969.
My band, The Wilson Mower Pursuit, got contracted to play the 1969 Ann Arbor Blues Festival. What an eye-opening, day that was.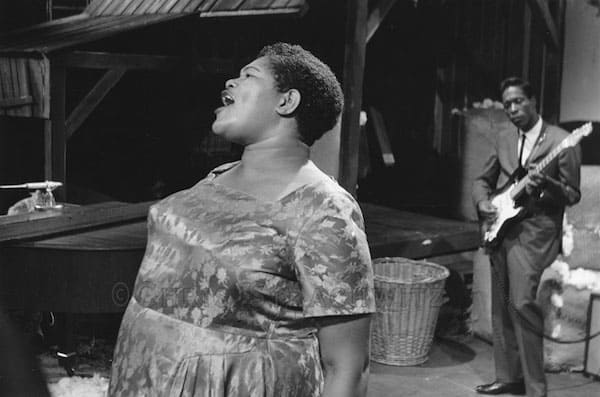 I'm pretty sure that changed the trajectory of my singing forever…..she was a one-woman-singin'-dynamo, with a voice, characterized between an angel and a freight train! I was in love with her voice, stage presence, and command! Her vocal qualities are what I wanted to aspire to; to just knock people over with a dose of visceral passion.
I went right out the next day and bought her record.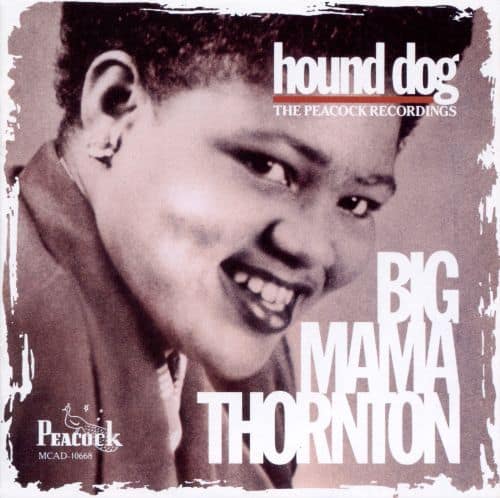 She was born, Willie Mae Thornton on December 11, 1926 and passed away at the tender age of 57. She played drums, harmonica and sang the blues, with a voice that never stopped ringing in my soul…..although she didn't write Hound Dog, (Jerry Leiber and Mike Stoller) the blues song was written with her in mind before Elvis ever heard it.
"Hound Dog", in 1952, which became her biggest hit, staying seven weeks at number one on the Billboard R&B chart in 1953 and selling almost two million copies She did pen the most classic blues hit, "Ball And Chain". (later redone by Janis Joplin)
According to Maureen Mahon, a music professor at New York University, "Hound Dog"  is seen as an important beginning of rock-and-roll, especially in its use of the guitar as the key instrument".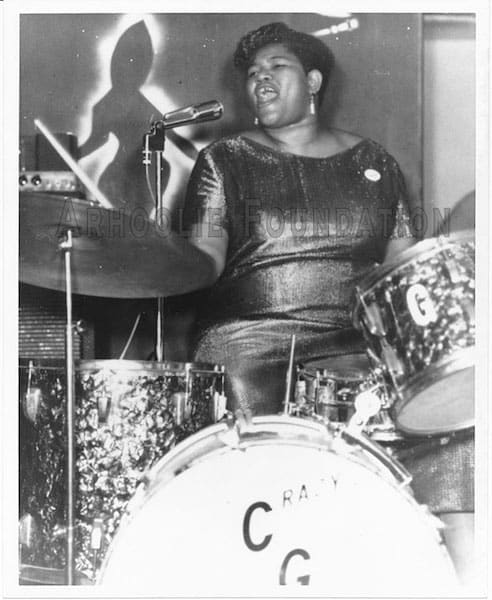 Thornton's birth certificate states that she was born in Ariton, Alabama, but in an interview with Chris Strachwitz, she claimed Montgomery, Alabama, as her birthplace, probably because Montgomery was better known than Ariton.
She was introduced to music in a Baptist church, where her father was a minister and her mother a singer. She and her six siblings began to sing at an early age. Her mother died young, and Willie Mae left school and got a job washing and cleaning spittoons in a local tavern.
In 1940 she left home and, with the help of Diamond Teeth Mary, joined Sammy Green's Hot Harlem Revue and was soon billed as the "New Bessie Smith". Her musical education started in the church but continued through her observation of the rhythm-and-blues singers Bessie Smith and Memphis Minnie, whom she deeply admired.
Thornton's career began to take off when she moved to Houston in 1948. "A new kind of popular blues was coming out of the clubs in Texas and Los Angeles, full of brass horns, jumpy rhythms, and wisecracking lyrics."
In 1951 she signed a recording contract with Peacock Records and performed at the Apollo Theater in 1952. Also in 1952, while working with another Peacock artist Johnny Otis, she recorded "Hound Dog", (the first record produced by its writers Jerry Leiber and Mike Stoller.
The pair were present at the recording, with Leiber demonstrating the song in the vocal style they had envisioned; "We wanted her to growl it," Stoller said, which she did. Otis played drums after the original drummer was unable to play an adequate part.) The record helped to bring in the dawn of rock 'n' roll. Although the record made Thornton a star, she reportedly saw little of the profits.
On Christmas Day 1954 in a theatre in Houston, Texas, she witnessed fellow performer Johnny Ace, also signed to Duke and Peacock record labels, accidentally shoot and kill himself while playing with a .22 pistol. Thornton continued to record for Peacock until 1957 and performed in R&B package tours with Junior Parker and Esther Phillips. Thornton's success with "Hound Dog" was followed three years later by Elvis Presley recording his hit version of the song.
His recording at first annoyed Leiber who wrote, "I have no idea what that rabbit business is all about. The song is not about a dog, it's about a man, a freeloading gigolo." But Elvis' version sold ten million copies, so today few fans know that "Hound Dog" began as "an anthem of black female power."
Similarly, Thornton originally recorded her song "Ball 'n' Chain" for Bay-Tone Records in the early 1960s, "and though the label chose not to release the song… they did hold on to the copyright" — which meant that Thornton missed out on the publishing royalties when Janis Joplin recorded the song later in the decade.
However, in a 1972 interview, Thornton acknowledged giving Joplin permission to record the song and receiving royalty payments from its sales.
As her career began to fade in the late 1950s and early 1960s, she left Houston and relocated to the San Francisco Bay area, "playing clubs in San Francisco and L.A. and recording for a succession of labels", notably the Berkeley-based Arhoolie Records. In 1965, she toured with the American Folk Blues Festival in Europe, where her success was notable "because very few female blues singers at that time had ever enjoyed success across the Atlantic."
While in England that year, she recorded her first album for Arhoolie, Big Mama Thornton – In Europe. It featured backing by blues veterans Buddy Guy (guitar), Fred Below (drums), Eddie Boyd (keyboards), Jimmy Lee Robinson (bass), and Walter "Shakey" Horton (harmonica), except for three songs on which Fred McDowell provided acoustic slide guitar.
In 1966, Thornton recorded her second album for Arhoolie, Big Mama Thornton with the Muddy Waters Blues Band – 1966, with Muddy Waters (guitar), Sammy Lawhorn (guitar), James Cotton (harmonica), Otis Spann (piano), Luther Johnson (bass guitar), and Francis Clay (drums).
She performed at the Monterey Jazz Festival in 1966 and 1968. Her last album for Arhoolie, Ball n' Chain, was released in 1968. It was made up of tracks from her two previous albums, plus her composition "Ball and Chain" and the standard "Wade in the Water". A small combo, including her frequent guitarist Edward "Bee" Houston, provided backup for the two songs.
Janis Joplin and Big Brother and the Holding Company's performance of "Ball 'n' Chain" at the Monterey Pop Festival in 1967 and the release of the song on their number one album Cheap Thrills renewed interest in Thornton's career.
By 1969, Thornton had signed with Mercury Records, which released her most successful album, Stronger Than Dirt, which reached number 198 in the Billboard Top 200 record chart. Thornton had now signed a contract with Pentagram Records and could finally fulfill one of her biggest dreams. A blueswoman and the daughter of a preacher, Thornton loved the blues and what she called the "good singing" of gospel artists like the Dixie Hummingbirds and Mahalia Jackson.
She had always wanted to record a gospel record and did so with the album Saved (PE 10005). The album includes the gospel classics "Oh, Happy Day", "Down By The Riverside", "Glory, Glory Hallelujah", "He's Got the Whole World in His Hands", "Lord Save Me", "Swing Low, Sweet Chariot", "One More River", and "Go Down Moses".
In the 1970s, years of heavy drinking began to damage Thornton's health. She was in a serious auto accident but recovered to perform at the 1973 Newport Jazz Festival with Muddy Waters, B.B. King, and Eddie "Cleanhead" Vinson (a recording of this performance, The Blues—A Real Summit Meeting, was released by Buddha Records). Thornton's last albums were Jail and Sassy Mama for Vanguard Records in 1975. Other songs from the recording session were released in 2000 on Big Mama Swings. Jail captured her performances during mid-1970s concerts at two prisons in the northwestern United States.
Thornton was found dead at age 57 by medical personnel in a Los Angeles boarding house on July 25, 1984. She died of heart and liver disorders due to her longstanding alcohol abuse. She had lost 355 pounds (161 kg) in a short time as a result of illness, her weight dropping from 450 to 95 pounds (204–43 kg).
Such a sad ending for what should have been a cherished woman with the glorious voice.
---