Shaun Murphy and Bob Malone have come together to record this really cool Rolling Stones duet, Memory Motel!
Just released today, it's already getting a lot of attention from radio. 
You can get it on iTunes at:
Please feel free to leave a review, or a comment….we want to know what you're thinking.

BOB MALONE BIO
BOB MALONE has toured the world as a solo artist for two decades and has played keyboards with rock legend John Fogerty since 2011. He is also a busy session player and arranger, and is featured on the latest Ringo Starr record, "Give More Love." His recording of "You're A Mean One, Mr. Grinch" is featured in the trailer for the upcoming Illumination/Universal movie The Grinch. Bob's latest album, Mojo Deluxe, went to #1 on the Independent British Blues Broadcasters (IBBA) radio chart, was one of the top 100 most played CDs in 2015 on the Roots Music Report radio charts, was top 15 on the Relix – jambands.com charts, and appeared on the Living Blues and Americana Music Association (AMA) radio charts. Bob's music has been heard on NCSI New Orleans, Dr. Phil, Entertainment Tonight, and The Rachel Ray Show, and he recently played piano and arranged big band and strings for a song recorded by Avril Lavigne for the Hallmark Channel. As a member of John Fogerty's band, Bob has appeared on The Late Show With David Letterman and The View.
"A keyboard wizard." The New Yorker
"Bob Malone doesn't just accompany himself on piano. He supports his singing with pulsating, roaring keyboard work that grabs you and shakes you until you cry for mercy." — Keyboard Magazine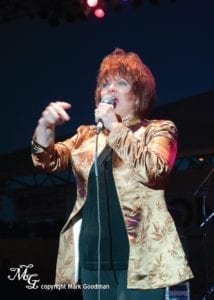 As a young woman in 1969, Shaun Murphy found her way to the Blues stage at the first Ann Arbor Blues Fest, and was completely smitten. Music had captivated her and she had truly
found her calling. After a brief stint on Broadway, she had the opportunity to land a recording contract on Motown Records to record a duo album with Meatloaf, called Stoney and Meatloaf.
Her time at Motown was wonderful and after these many years in LA, I had been invited to record and tour with her old friend, Bob Seger, what an honor!
During a hiatus with Bob, she was asked if she'd be interested in coming to record the backing vocals on Eric Clapton's 'Behind The Sun' album. They recorded this great record, and Eric asked her if she'd like to do the tour, it was too good to be true! Not only that but a following tour as well!!!
It was on Bob Seger tour in '86 that she met Bill Payne and Fred Tackett, two of the members of the legendary band Little Feat. A little after recording on the re-grouped band's CD, Let It Roll, they asked her to join as a full member in 93', and for the next nearly 16 years, it was her home.
It was after this stint with Little Feat that she realized she'd come full circle back to where she started, in the world of the Blues.
She was fortunate in 2013 to win the Bluesblast Music Awards, Best Female Blues Artist Of The Year and also won Best Contemporary Blues Album Of The Year for her release of Ask For The Moon, as well as three Grammy nominations.
Her CD, It Won't Stop Raining, brought her a nomination for the Koko Taylor Award From the Blues Foundation.
With her most current release, Mighty Gates, created a cross-genre CD
of which she wrote 7 of the tunes and included a couple from her favorite artists. Dobie Gray had sent her the song 'Mighty Gates' a little
over 5 years ago, and she thought it a perfect fit for the times!
shaunmurphyband.com
"Shaun proves here that she can take you to church or take you to the alley in one verse…."
Gil Anthony, Blues Power, KBA recipient commercial radio
"Mighty Gates smoothly swaggers through; Blues, Americana and Rock. A musical tapestry of depth and beauty that all music lovers must have."
John 'blueshammer' Hammer; Publisher of Blue Monday Monthly Tabloid.
More later!!
Shaun
---