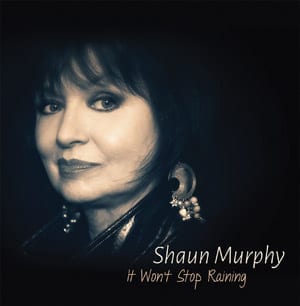 Shaun Murphy's latest release "It Won't Stop Raining" is ready. And it's something she's very proud of.
"I'm so happy with how "It Won't Stop Raining" came out. It has some of my favorite musicians on it — (in fact, all of my touring band is on this record), plus some of my favorite songs. I can't wait to here what you think."
Shaun Murphy
You can buy the CD on CD Baby by going to this page.
You can also get Shaun's CD on iTunes and Amazon as well.
"When I was putting this together, as producer, and brought it to engineer and mixer Randy Coleman, I knew what we wanted was to create more of a genre specific disc. We gathered some great songs for this CD through a number of our friends and picked a select few of the classics to round it out. We all got together over at Colemine Studios here in Nashville. We also knew we wanted the only guys that tour with Shaun on this CD from the start, booked some dates and came up with a cool concise record that fans and DJ's are going to love. We've done a number of Shaun's CD's at Colemine Studios and we hit the ground running. This has got to be, by far, her best yet. Got some wonderful performances from everyone. I think Shaun's fanbase will certainly want this in their catalogue, in fact, I'm already hearing rave reviews."
TC Davis : Manager/Producer
---