Here we are the 5th night at DTE that's Pine Knob to most of us here in Clarkston Michigan and here's a shot of the venue, gosh it's it's so emotional looking out here and knowing that we got one more show to do a DTE, forever, with Bob Seger. It just boggles the mind, you guys coming to the show every night, and the weather has been fantastic, we have skirted all these storms that have been coming in and out, so, we've all been really, really lucky and it looks like the show for tomorrow, which is 21st of June, is going to be clear skies and clear sailing, so we look for a rip roaring crowd, actually probably pretty much more on the hysterical side, I know we're gonna be hysterical!
You know that we had, all week at all six shows we've had to contend with these cottonwood seeds floating around and a lot of us have been very susceptible to the allergies that are carried by these things so, we've got to have people coming in, this is a shot from the platform of our platform, the girls, and, just small collection of seeds and they've got people coming with vacuum cleaners in every couple hours to do a soak it all up because it can get caught up in all manner of gear back there so it in awful nuisance awful, awful.
Here we are, getting ready for sound check we've got, on the left, Paul Bassett, he's the drum tech extraordinaire, and he helps us out drum tech extraordinaire he helps us out with all of our percussion anything that we need is just an all-around great guy, and next to him is Barbara Payton from the back, next to her is Mike Rush, who is Chris Campbell's tech, Chris Campbell, of course, is the bass player, as you all know, and then of course, on the right we have Laura Creamer and her trusty floor toms, there and she gets goin' with great gusto, I might add!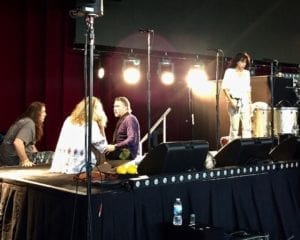 OK, so we're done with sound check and I just turned around because I just noticed this plaque on the door here and as you can see, it's a notice that let's you know it's not just the band that says I'm sorry we can't play anymore, I mean is the actual facility themselves, and of course a lot of these outside facilities have the same kind of premise, it depends on, you know, the timeframe in all of the local areas, but this one apparently as you know is it they've got a strict 11 PM curfew and that's, really to help out all the neighbors for the noise restrictions and all that.
We were so excited to see Drew Abbott come into the show, and long time silver bullet guy, actually I started working with Drew when Bob had the Borneo Band, so that would've been Drew Abbott, Alto, Jamie Oldaker on drums, Dick Sim's was on keyboards, and he kicked peddles for the bass, and there was a percusion player named Sergio Pastoria, and also my good friend Marcy Levy was the whole contingent of folks, so, having Drew come in last night was just a real, real big plus, we all love him so much, and of course he's got a new record out and a Barbara singing some backgrounds on it and everything and it's a cool stuff!
DTE: Bob Seger Concert Tour
DTE: Bob Seger Concert Tour
DTE: Bob Seger Concert Tour
Well folks, here's a sneak preview from last night, of the set list and our little packs for our on-ears up on top there and we've added a new song that we've actually never done before, You Take Me In, was a song that is so tender song that Bob had written for his wife, Nita, so we got a chance to do that, kind of acoustically, so that was, that was just gorgeous, and the audience really, really liked that one, but you know, I mean let's face it folks, we could play for six hours and still not get all of Bob's songs and all the favorites that you want to hear and it's just so difficult to pick and choose you know, so we're trying to do the best….
So we got a day off today, here in Rochester, Michigan, and it's raining, so I'll be kind of cruising around the hotel today I'm not gonna go out in that mess. I'm just feeling much better, had a touch of the bad flu this last week, so kind of soldiered through, and you know, you got to do that kind of thing, you can just stay home in bed.
So, anyhoo, I am getting ready is getting all primed up to do the last show at DTE and it's, it's going to be very, very emotional for everybody, as it will you guys I, know that you know you're the reason that we're all here, let's face it, that's the bottom line as far as I'm concerned!
I want to thank Jim O'Brien, over at CSX, I did a really cool interview with him yesterday on his podcast and he's just a fantastic guy and a great, great voice and Radio were so glad to have them still working here in the Detroit Michigan area, so heads up, and thumbs up to Jim O'Brien.
One last thing I have to, have to say, I don't know if you guys know this, but, I'm with this organization called airplaydirect.com which is an organization based in Nashville, with Lynda and Robert Weingartz, and I received a lifetime achievement award, the first ever, female lifetime achievement award that comes with a $50,000 bonus for radio marketing and branding and I just, I'm still vibrating, just can't believe it how the luck I've had, these people are so great, they do such a great service, and if you have never heard of them and especially indie artists out there,, come on, check them out, they handle thousands and thousands and thousands of DJs, and you put your music up there, they send it out, they have E blasts that you can do to promote your record and it gets out all these DJs and downloads um, and they play them on the radio, and it's a great service so, I highly recommend all you indie artists out there, get on board with airplaydirect.com, they are incredible!!
Well, that's about all I got to say for today, I'll be back soon with another blog, I appreciate you listening and thank you!
---