If you care to listen, instead of readin'!!!!
Well we're back in the saddle with the Bob Seger in the Silver bullet band on tour for these fall dates, we are so excited to be here and getting out and seeing you guys again and, boy, heading all kinds of places, some places we've never played before, we're heading out to, the first date, I think is Rapid City, SD and of course we're going to be in Fargo, ND on the 14th, I believe, of this month and I think the last time we played in Fargo, it was so cold that our plane was grounded, and we couldn't fly out and the snow was coming in sideways, the wind was amazing, so we're happy to be there in a better climate this is time so, God, we're going to be over to Montana, Washington, Oregon, Utah… all kinds of places, so we're looking forward to seeing all of you out there and having a great time, but I just wanted to take a second here and in the check out these couple of pictures that I have, we decided to not rehearse at Kid Rock's warehouse which is where we normally do rehearsals for Bob, but we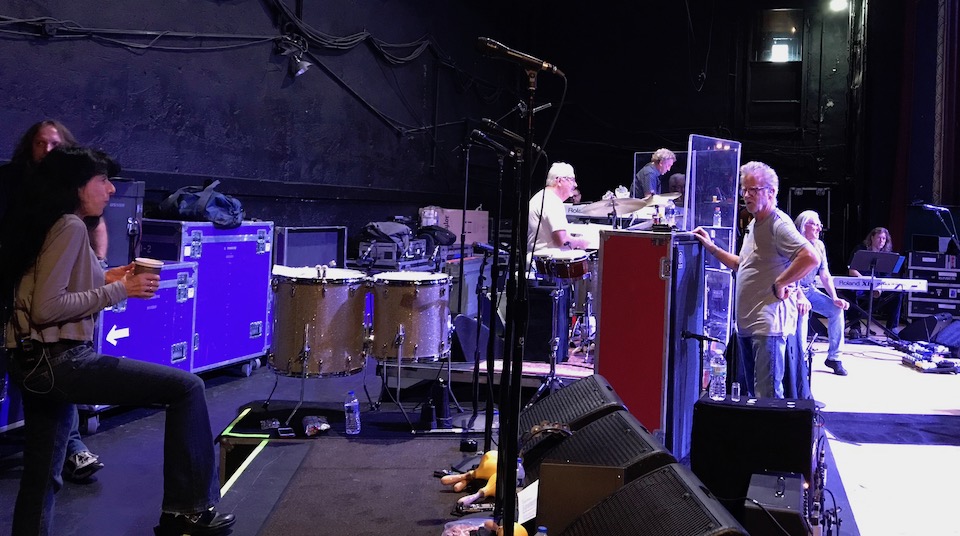 decided to come over to the Royal Oak theater in Royal Oak, Michigan, so all the, or a partial bit of the set-up is all done right here, it's a little small for all the gear that we really have for the big shows, but the crew does a fabulous job and here we see Laura just getting on the platform we're getting ready to start the rehearsals we got to two days of rehearsals this time so, and another one right before the show in Rapid City so we're on full alert full gear, everything having fun… and then you see Greg Morrow is on the drums, and Craig Frost in the background a little bit, over to the right, Chris is waiting for his tech guy to bring him his bass, and Mark Chatfield kind resting back there and Jim Moose Brown and the keyboards tinkling away on those keys, 'cat on the keys', what a player he is!
So the next one we have is some of my favorite people, of course, I've worked with Laura since the 1978 tour; she joined and then she became a full-time gal on '83 tour so, well, there's nobody better than Laura, I'll tell you that, she is amazing. Next to her, next to me actually, is Chris Campbell, and then the delightful Barbara Payton, she keeps us on our toes, she is just fabulous we are so, so  happy to have her on this on this line up with the three of us three of us girls, three musketeers, and then one final shot,
the fantastic Mark Chatfield, he's a barrel of laughs, me, of course on the left, Mark Chatfield and Barbara Payton on the right, so those are the pics that we have for this blog right now, and once again, I'm so looking forward to seeing you all in and actually I hope we have a few more after-show parties because I like to meet new people that are coming to the show, people that I haven't met yet, and new fans of Bob's and a lot of our friends are coming to all the shows so that gives us a chance to really sit down and, you know, chat with all these people, all in one room, so that makes it a great time so we are going to see you out there on the road somewhere, on that proud highway and that's about all for this blog, so will be talking to you soon, thank you so much and stay as cool as you are!
Until next time,
Shaun
---